Cam, honey, you had us right up to the moment our eyes landed on your feet.
Cameron Diaz attends photocall for "Sex Tape" at The Four Seasons Hotel Los Angeles in Beverly Hills, California in a The Row blazer paired with a Rag & Bone top, Frame Denim jeans, and Isabel Marant pumps.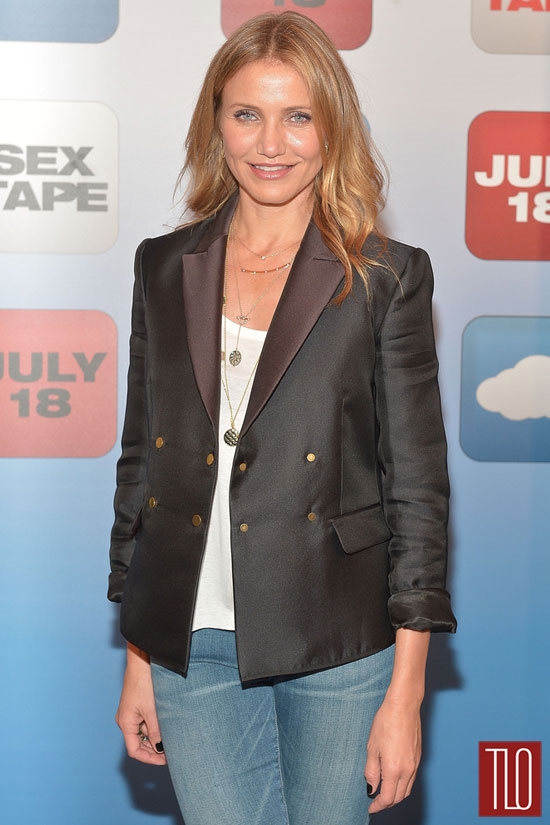 It's low-key chic and we love it, even if we think the jacket looks a skosh too small on you and probably would've presented better in pictures if you'd buttoned it. But we can forgive all that because we're suckers for a tuxedo jacket-and-jeans look. It's the little bows on the shoes we can't abide. And the more we look at them, the more we think gold metallic was not the way to go for the footwear.
Is that a new hair color? It looks warmer. We approve.
Cameron Diaz attends premiere of "Sex Tape" at the Regency Village Theatre in Westwood, California in a Stella McCartney jumpsuit paired with Prada sandals.
Well… it's something, all right. We give her credit for the attempt, but apparently she's not the gal to work the Studio 54 pajama set. Which is odd, because we would have figured most disco-era styles would be firmly situated inside her wheelhouse. But let's face it: almost no one on the planet can make a polka-dotted pajama jumpsuit look good.
A for effort, though.
[Photo Credit: Alberto E. Rodriguez/Getty Images, Izumi Hasegawa/PRPhotos.com]