You want a whole bunch of pictures from the coronation with our thoughts on the fashion, the role of the royals, the irresponsible actions of the press, and the mistaken assumptions of royal fandoms? Well go ahead and make yourself a sandwich, because we've got a lot of ground to cover.
First Lady of the United States, Dr Jill Biden (in Ralph Lauren) and Her Granddaughter Finnegan Biden (in Markarian)

There was some speculating that they both came dressed as the Ukrainian flag, which is a not entirely unsupported idea, given how they met and sat with the Ukrainian First Lady. We'll have a bit more to say about the idea of symbolic dressing in a bit.
Dame Emma Thompson in Emilia Wickstead

It's a lovely coat and that red looks great with her coloring. Not exactly surprising, but this is better than pretty much anything she's worn on a red carpet in a decade.
Dame Joanna Lumley

We love that she poses exactly how Patsy Stone would. She looks very chic, in a throwback to the mod fashions of her youth.
Canadian Prime Minister Justin Trudeau and His Wife Sophie Trudeau (in Ted Baker)

Pretty, but we don't love the color or how the sleeves attach.
Prime Minister Rishi Sunak (in Akshata Murthy) and His Wife Akshata Murty (in Claire Mischevani)

Modest and appropriate, but a little dowdy.
Prince Albert II and Princess Charlene of Monaco

Surprisingly bad, we're sorry to say. The color and silhouette do nothing for her.
King Felipe VI and Queen Letizia of Spain (in Carolina Herrera)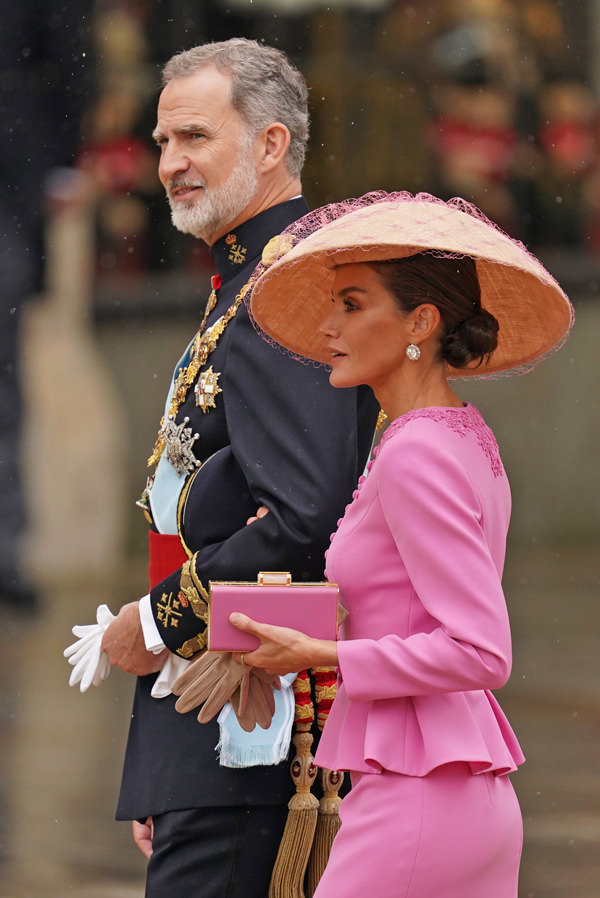 Very pretty and queenly in a modern, Disney-esque sort of way.
Prince Edward The Duke and Sophie Duchess of Edinburgh arriving with Lady Louise Windsor (in Suzannah London) and the James Earl of Wessex

This felt like something of a debut for Lady Louise. Her parents have a heightened royal profile as the new Duke and Duchess of Edinburgh and that's naturally going to reflect on her just as she's coming of age. This is very pretty.
Princess Anne, The Princess Royal and Vice Admiral Sir Tim Laurence

You have to admit, she makes it look badass.
Sweden's King Carl Gustaf XVI and Crown Princess Victoria

Practically a nun's habit, it's so plain.
First Lady of Ukraine Olena Zelenska and the Prime Minister of Ukraine, Denys Shmyhal

Looking unfussed, unbothered, and chic as hell. It's a beautiful coat and color.
French President Emmanuel Macron and His Wife Brigitte Macron (in Louis Vuitton)

Gotta say, she rep'd the French pretty well. This is extremely sharp and chic. It hits those royal notes (all one color), but the detailing screams high-fashion.
Lionel Richie

Nick Cave

Katy Perry in Vivienne Westwood

Maybe this isn't fair, but this felt like an American's idea of how to dress for the coronation. There's certainly no crime in choosing Westwood for the occasion, but this is a little too mumsy, the color looks terrible on her, and the fit is awful. That necklace is tacky.
Penny Mordaunt in Safiya

Pretty much the epitome of power dressing. It's giving President of the United Federation of Planets as much as it's giving a distinct whiff of Fascism Chic. It's a gorgeous ensemble.
Princess Beatrice (in Beulah London)

The dress is cute but the headband is kind of awful.
Prince Harry in Dior Homme

Showed up looking fine, smiled for the cameras, sat quietly and got the fuck out of there the second he was able to. Despite all of that, the press went rabid on him as if he'd spent the day violating protocols and insulting the country. Several royal reporters who should be deeply ashamed of themselves fanned up public outcry on social media because the Dior twitter account posted details of this outfit and they made the huge leap into accusing Harry of profiting off the occasion. It's not true and there's no evidence for it whatsoever. Several fashion houses have posted the details of their various appearances at the coronation. This is standard operating procedure for any fashion house after a major event. Our inbox gets fifty of these notices every day.
Prince William, Catherine Princess of Wales (in Alexander McQueen), Princess Charlotte (in Alexander McQueen) and Prince Louis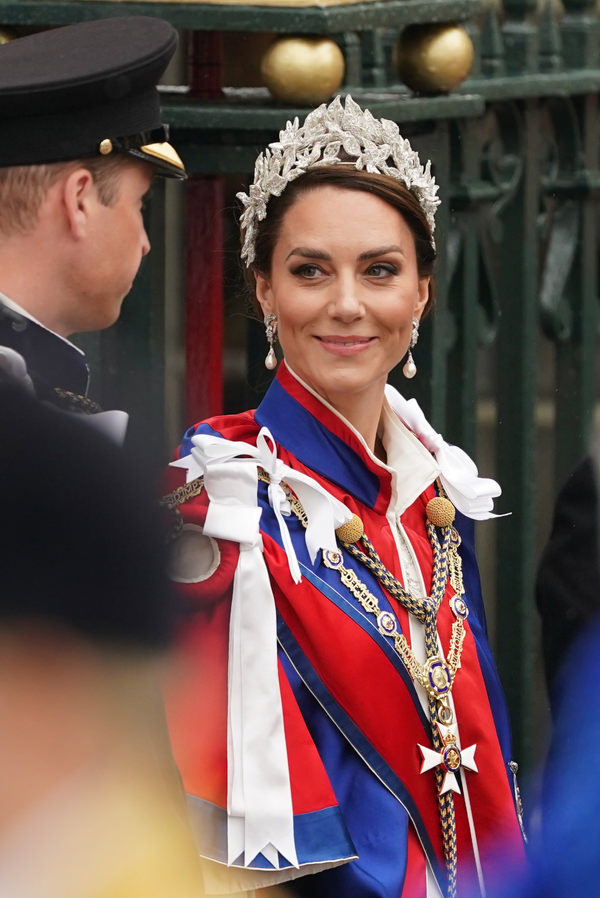 Now here's where style commentary collides with ancient rites and holy traditions in a way that serves neither of them. The American press in particular is very, very bad about drawing this distinction for their readers and there is an entire cottage industry of sites and publications devoted to divining hidden, usually highly sentimental or vindictive meanings to the choices of royals in official situations. For instance, a whole bunch of publications noted the "touching tribute" of Kate wearing the pearl earrings that belonged to Princess Diana. At the same time, royal fans on social media crowed about how she was sending a subtle fuck-you to Camilla by wearing them. This isn't how it works with royals. While we have no doubt that Kate and William feel some personal connection to items that belonged to his mother, the fact remains that jewelry among the royal set is passed down along with the titles and is meant to be flaunted as a show of one's place. She's wearing the former Princess of Wales' earrings because she is now the Princess of Wales, period. Kate is very much a company woman and absolutely nothing about her personality or persona indicates that she is the type of person would use the occasion of the King's coronation to cause a little trouble or scandal. There's also no reason that anyone in that family would think that Diana would want to be remembered on this occasion. If she were alive, she'd have very much been in "Leave me out of it" mode. It just doesn't make sense and it's a story told in order to fan up conspiracies and fan fictions in order to get clicks. Royals don't use their clothing choices to make secret statements about each other. Their public clothing – especially at an event like this one – is symbolic only in the sense that it is meant to uphold and celebrate their own station and power. Both Kate's gown and Camilla's (in white because it's traditional for women during coronations) are embroidered with symbols of their lives, stations, and homes as well as the English rose, Scottish thistle, Irish shamrocks and Welsh daffodils that represent the home countries. William is wearing the Royal Order of the Garter robes and she is wearing the Royal Victorian Order robes, symbols of their station as well as their ranking in the family order. The press made a big deal about how her silver and crystal headpiece was a more "green" and less fancy choice than a traditional tiara, but that strikes us as the press simply repeating whatever palace press release crossed their desks. Charles apparently didn't want tiaras worn at the ceremony, a choice that was almost certainly due to the rather spotty history regarding the provenance of royal gemstones as well as a desire to look slightly less grandiose than one might expect from a coronation. That's all fine, but having a bespoke tiara (because that's exactly what it is) made out of crystals and silver bullion by milliner Jess Collett and the house of McQueen is not a more sustainable or less fancy option than just pulling an existing tiara out of the vaults. Having said that, it's a gorgeous piece, and Princess Charlotte's matching headband and cape give the family an inviolable sense of unity. THAT's the symbolism and message in Kate's clothing, not silly fan fictions about her mother-in-law or any supposed rivals she has. Kate is exactly where she wants to be, living exactly the life she planned for herself and all of her public style, high and low, affirms this fact over and over again. She's not fanning any flames of family drama through her accessorizing. She's dressing like a queen would, avoiding drama, ignoring scandals, and reaffirming her station. Anything else is fan fiction.
King Charles III and Queen Camilla (in Bruce Oldfield)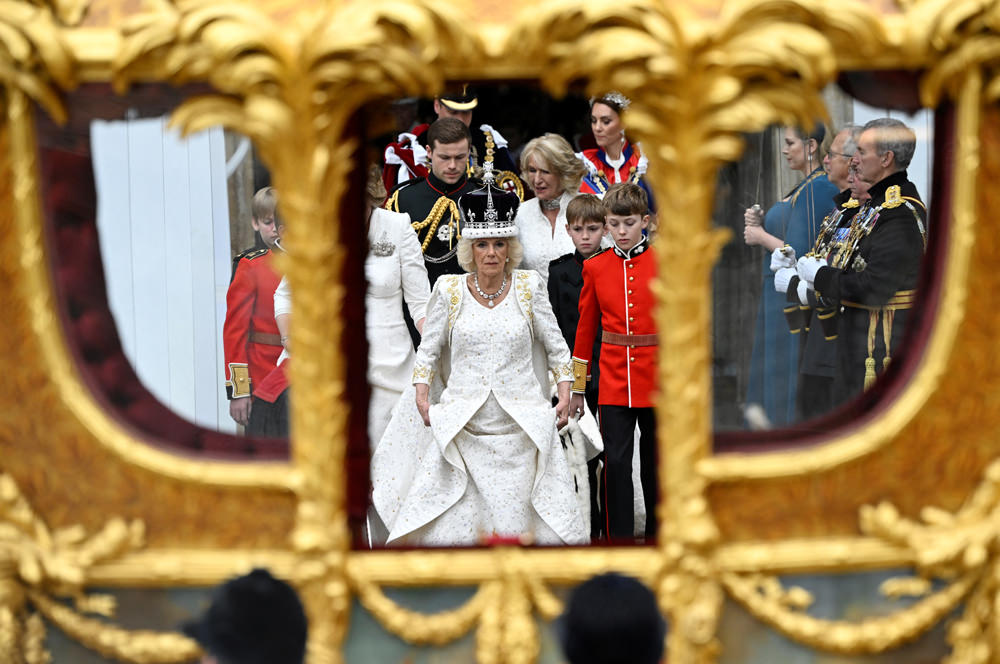 Camilla's gown has lovely embroidery and beadwork, including a tribute to her two beloved rescue dogs down at the hem, which is very charming. She favors tunic or vestment-style dresses without collars, cuffs, buttons or belts of any kind. It's never been a great style for her although it mostly works for a solemn ceremonial occasion like this one.
As for the coronation itself, with the proviso that we are not remotely part of the culture from which it springs, we were a little surprised by how dour an occasion it turned out to be. While we have no doubt that Charles places the solemnity of the moment at the highest importance, we thought several opportunities were missed to make this feel like a celebration. The fact is, both Charles and Camilla tend to go robotic when you put them in front of large crowds. Granted, it's not like Queen Elizabeth was ever the picture of public warmth, but people found it easier to project grandmotherly attributes onto her. One thing we know from over a decade of writing about them is that people are going to see whatever they want to see when they look at the royals. It's a big part of their mystique and appeal for so many royal watchers. Some will see yesterday as a glorious tradition upheld, others will see it as a grotesquerie of power, and still others will roll their eyes and not give it another thought.
[Photo Credit: Abaca Press/INSTARimages, PA Images/INSTARimage ]
blog comments powered by

Disqus