Okay, Eva. You've picked the right dress for you. Now let's move on to what else needs work here.
Eva Green attends a photocall for Sky Atlantic's "Penny Dreadful" at St Pancras Renaissance Hotel in London, England in a Dsquared2 ruffled dress.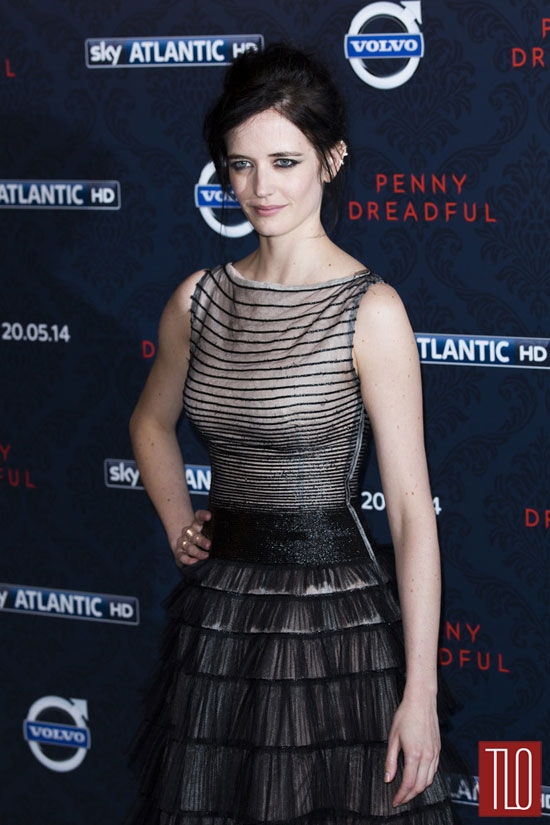 First: Your posing. NEVER curtsy on the red carpet. NEVER EVER. It's almost as bad as finger guns and the praying-hands "Namaste" pose. Twirling is sometimes appropriate but only if you've got the skirt and the motor skills for it.
Second: The shoes are gorgeous. They really match the dress. Like, REALLY match it. We would have recommended a simpler shape and some color. An oxblood would've been great here.
Third: Your head. It's just … off somehow, dear. The makeup never looks quite right and the hair's a mess.
Fourth: Boob support. Girl, you want to let those puppies swing free, be our guest, but you tend to choose outfits with fitted bodices that pretty much require a decent amount of support for those wearers over a certain cup size. It puts a visible strain on the bodice, making it look like it's going to tear away at any second.
But we reiterate: that's a really great dress for you.
[Photo Credit: Tristan Fewings/Getty Images]
blog comments powered by

Disqus