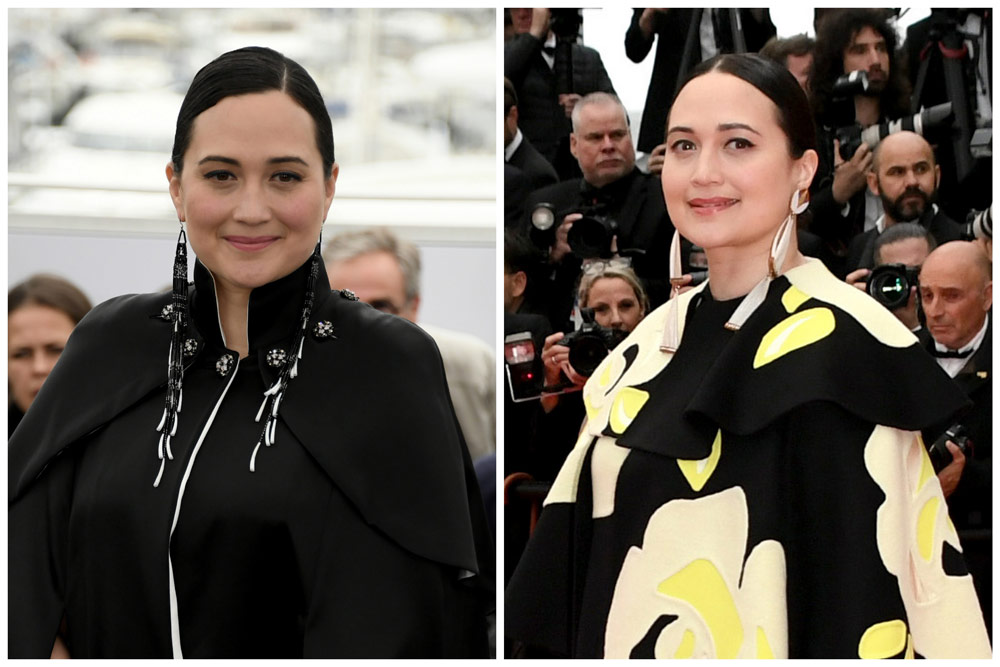 Martin Scorsese's long-awaited (and just plain long) Killers of the Flower Moon had its world premiere at Cannes and we are delighted to hear that the reception to it has been rapturous. Among those receiving the most buzz and the highest praise is the film's star Lily Gladstone. Not coincidentally, she had herself a very stylish weekend, as one would hope for an actress who suddenly has major awards mentioned in sentences written about her.
Killers of the Flower Moon Cannes Photo Call

It will be interesting to see her navigate the awards track, but for this portion of it, she isn't overtly referencing indigenous clothing or style tropes except in her jewelry or other light touches. It's straight-up Cannes Movie Star Chic for the moment. This is dramatically elegant and a little cutesy-twee at the same time, with a bit of a Star Wars feel to it. We don't think it would be nearly as interesting without the addition of those focal-point earrings, which are framed and supported by fairly minimalist head styling. It's chic and restrained. She looks a little chilly, so we can't help thinking a pair of sheer black hose would not be a bad addition here. The row of buttons around the neckline are an interesting alternative to a necklace, but we think the earrings are fighting with them a little.
Killers of the Flower Moon Cannes Film Festival Premiere
She definitely wasn't chilly at the film's premiere, thanks to this jaw-dropping coat from Valentino. It's unique, insanely dramatic, ridiculously photogenic, and clearly well-suited to her. It would take a hell of an accessory to even register against a backdrop like that, but the earrings by Native American designer Jamie Okuma are pure stunners. Again, the restrained head styling is sleek and allows the drama of the style choices to shine. She's off to a fantastic start.
View this post on Instagram
Style Credits:
Second Look: Valentino Floral Print Dress from the Fall 2022 Couture Collection | Jamie Okuma Earrings | Chopard Earring
Styled by Jason Rembert | Hair by Gui | Makeup by Nick Barose
[Photo Credit: Julien Reynaud/Abaca Press/INSTARimages, Alberto Terenghi/IPA/INSTARimages, IPA/INSTARimages, valentino.com]
blog comments powered by

Disqus