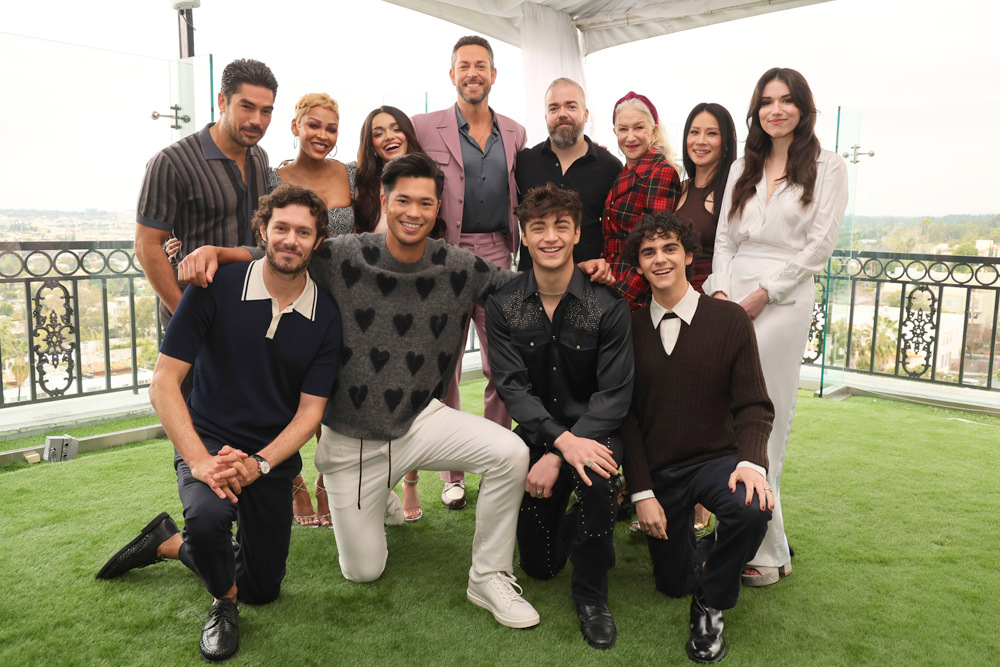 D.J. Cotrona, Meagan Good, Rachel Zegler, Zachary Levi, David F. Sandberg, Helen Mirren, Lucy Liu, Grace Caroline Currey
Adam Brody, Ross Butler, Asher Angel, Jack Dylan Grazer
The whole damn Shazamily came out to pose cutely in order to promote Shazam: Fury of the Gods. We're actually kind of impressed by the collective effort put in. Let's assess.
Zachary Levi

We're appreciative of the choice, if only because it's so goofily notable. Pink suits aren't a new trend by any means, but a pink leisure suit is definitely showing a commitment to standing out. The thing is, he gives off such a Youth Pastor vibe that when he tries to wear something trendy or funky or whatever, it just comes off a little tryhard. Maybe that's not fair, but we think he just doesn't have the looks or persona to pull off a pink leisure suit with aplomb. You may have noticed his rather demure posing here. Well, the thing about that is…
Like we said: Youth Pastor vibes. Somebody must have taken him aside at some point and told him about what happens when you wear a leisure suit without the proper undergarments.
Rachel Zegler

HAHAHAHAHA! Oh GOD, no. Honey, what are we doing here? Why are we using industrial grade lobster clasps to lift your skirt? The fact that you would even choose to wear this has us seriously questioning your instincts.
Asher Angel

This is cute-sexy, which is pretty much where a 20-year-old movie actor transitioning into adult roles wants to be. The shirt is great, but we question those pants.
Meagan Good

Really, really cute. No notes.
Ross Butler

So apparently, everyone agreed to dress as cutesy as possible for this one. That seems like a smart way to go to promote a project like this one. That sweater is covetable. Why are we looking at hanging drawstrings?
Adam Brody

It's an okay enough outfit, but it really only works with good grooming, which is not on display here.
Grace Caroline Currey

This strikes us as a little overwrought for a daytime photocall. The whites don't photograph well and she wound up a wrinkled mess.
Jack Dylan Grazer

Also a very cute look! In fact, we think we want this whole outfit.
D. J. Cotrona

We'll switch up our adjectives and call this a very hot look. It's also cute, but he is hot, which tends to override any cuteness factor.
Lucy Liu

We were initially a little disappointed when we saw this one, but that has more to do with our high expectations of her. The longer we look at it, the more we think it's a really cute day look. We're not convinced on the footwear choice, but those shorts are pretty stylish.
Helen Mirren

Love the shoes, hate the headband.  The coat is gorgeous.
[Photo Credit: Eric Charbonneau/Courtesy of Warner Bros. Pictures]
blog comments powered by

Disqus