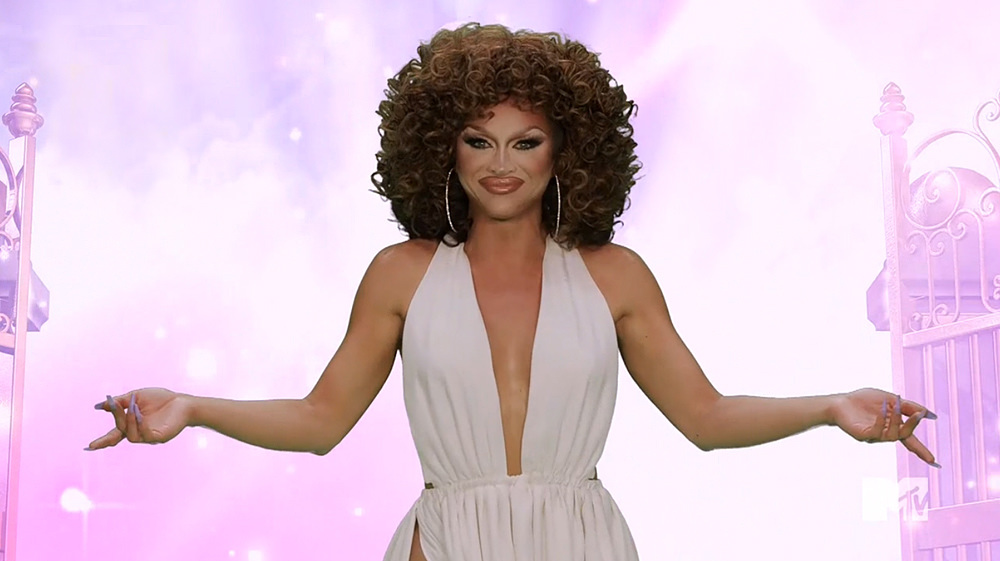 A broad and vaguely defined challenge (probably by design) split this large gaggle of queens up into three groups and tasked them with writing a comedy infomercial about the afterlife for drag queens. As is often the case with broad and vaguely defined (by design) challenges, the results were kind of illuminating regarding the question of each queen's talent and professionalism.
We may not have been all that entertained by the results, but the show did what an ostensible reality competition is supposed to do in its early days: point out the frontrunners and the cannon fodder. Even if you think you have a handle on everyone by the end of it, the producers now have storylines for several of the queens – and some of those storylines tend to center around comebacks or "I'm gonna show them I know what I'm doing" vows. Drag Race may be chronically formulaic at this point, but it still knows how to lay down those reality competition beats.
In unrelated news, we will restate our possibly solitary stance that no one should be allowed to look too cute or dolled up in the Werk Room. One of the most game-changing things about Drag Race is how it insisted on depicting the transformative qualities of drag (which is why as much as a third of an episode can be devoted to makeup mirror conversations and outfit-assembling drama). Luxx is damn near in drag already and some of the other boys look they're heading to the clubs. We get that they're all young and cute and don't want to look bad on TV. We just think you should look like you're ready to do the work in the Werk Room.
Speaking of makeup mirror conversations, Mistress Isabelle and Malaysia unpacked that old drag queen spiritual of familial and social rejection. We don't intend to slight either of their experiences. In fact, our point is to note that, while this exact conversation and scene has played out an uncountable number of times on all the Drag Race iterations, it's to the show's credit that it doesn't try to rush through these conversations or manipulate them. It's a sad fact of queer life and Drag Race has never once shied away from what it sees as its responsibility to shine a light on it.
Anyway, Anetra and Amethyst got to pick their teams, which left the unpicked queens as a team of leftovers, exactly the kind of bitchy move you'd expect from Drag Race. Exactly as anyone might have predicted, Sugar and Spice spew a lot of emotional drama over the trauma of having to stand far apart from each other in the same room and talk to people who aren't them.
The show often over-emphasizes the judges' reactions, so Team Anetra, which offered a mildly amusing bit, got uproarious laughter while the other two teams' efforts were met with stony silence. We don't necessarily disagree with the judges' assessments, but we also don't think this was a hilarious sketch. It was the least awkward, with the highest number of competent performances and it was the only one where more than one joke landed. Comedy gold it was not, but Sasha's neck snap really was stupid-funny, Luxx's therapist was a skillfully delivered character, and even Salina toned down the screaming long enough to give her character a through-line. It was good work. Anetra had a low-key bit that she executed smoothly and Marcia Cubed disappeared into the background.
We suspect Loosey LaDuca's flawlessly funny Dolly impersonation was the deciding factor to judge everyone individually, because aside from her performance, Team Amethyst sucked. Pun intended. Poppy is astonishingly flat as a presence and Aura is non-existent. For some reason, even though the other girls were doing basic glamour drag, Amethyst did herself up as the awkward comic relief character – except she wasn't funny at all, which just left her looking awkward. We immediately questioned the near futures of all three queens on the left. They were that bad. As we suspected, Spice (and Sugar) are attacking the challenges with gusto, if not necessarily a lot of polish or skill.
For some completely inexplicable reason, Team Leftovers handed the entire sketch over to Sugar while the rest of them stood around and silently reacted to everything she did and said. Honestly, that shows such poor thinking on their part that we question whether any of them are able to do any sort of sketch performing at all. They all certainly demonstrated that they have terrible comedy instincts. Malaysia and Mistress stood out slightly, but only because they had actual lines to deliver. Jax and Robin barely spoke.
If all Sugar and Spice have to offer is bubbleheaded Bratz doll drag, they're likely to find themselves sashaying away sooner rather than later – if this were a real competition, that is. Who knows which way the Ru blows, but we can't imagine them doing all that well in some of the tougher challenges or in a situation like Match Game, which requires them to think on their feet. Not to be all preachy about it, but drag is so broadly defined and executed that we tend to find queens who restrict themselves to somewhat unflattering portrayals of cis women to be a little tiresome. There was a time in its history where "girls are dumb/slutty" dominated the mainstream model of drag but it honestly hasn't been the norm in decades.
The runway category was "Metallica," and these queens, they did not slack off. At this point, it's almost not worth pointing out that almost all Drag Race first-timers now show up with trunks full of world-class costumes. Some day, when the show might feel the need to shake things up in its format, we think they should do an all "pay it no mind" version of Drag Race that forces the queens to assemble and craft their own drag.
Anetra's look is gorgeous. We wouldn't say she's limited in the way the twins are, but she hasn't shown a lot of range in her looks yet. The judges loved Sasha's but we thought she looked like showgirl chicken. Salina's was eye-catching in a bizarre and inexplicable way. Luxx was gorgeous and Marcia Cubed was cute.
Amethyst's look is fun, but we don't love her preference for these bad-perm wigs and we agreed with the judges that her makeup needs some adjusting. As for Princess Poppy, on the one hand, we were happy to see her get away from the blonde wigs. On the other hand, this is generic drag bunch hostess drag. Spice's look is flawless, which is in line with everything else about the twins: unsurprising. Aura broke away from the samey-same drag she was sporting last week and she came out looking great, although we question those tights. Loosey's look, like so much of her drag, has an '80s feel to it. We love the costume but we kept waiting for Michelle to tell her that her wig is matronly. Then again, it feels like the show barely lingers on critiques anymore.
We're starting to get that Jax works a take on genderfuck drag, combining extreme masculine and feminine elements. This look is interesting, but it doesn't feel fully… we don't know. Resolved? Thought out? Who is this character? Robin's whole look is a great design. Her costume comes off a little flimsy next to some of the others. Mistress Isabelle already made the Eureka O'Hara comparison (sarcastically, of course), but it's hard not to see the similarities in their drag. Having said that. we do think the proportionizing her could be better. Sugar: see entry for Spice. Malaysia's drag remains gorgeously unique, although "metal" isn't really what comes to mind when we look at her.
We'll give the show some credit for not making one of the twins sweat it out on the bottom while the other tries to hold herself together, but we can't really argue that Amethyst, Poppy and Jax were the worst. Sasha, Luxx and Loosey made it to the top by process of elimination. Not to take anything away from their standing, but there was literally no one else who could be named as one of the better performances. They're the only three who made it work.
We think we might have given the win to Loosey, but since she's already made a Scarlett O'Hara-like vow to make the judges love her come hell or high water, it probably serves the show better to keep her dangling a little longer. Sasha's a perfectly fine choice, though. She's smoothly professional in a way Ru tends to like (and then often become bored with).
As she did with Ariana Grande last week, Amethyst interpreted the song using the original artist (Diana Ross) as the baseline or reference for her performance. Princess Poppy opted to go for high comedy and pussy thrusts, which isn't, you know, offensive or anything, but it did feel completely wrong for the song. We guess Amethyst is an official lip sync assassin now, but we tend to think she went up against weaker, or in Irene's case, checked out performers both times.
We think we've said enough mean things about her in this post, so we'll just add that some queens may have world class potential, but they aren't ready for the challenges of this show. She just got a huge boost to her career, so now she's got a chance to really run with it and hone her drag. Good luck, Princess!
Legendary Children: The First Decade of RuPaul's Drag Race and the Last Century of Queer Life, a New York Times "New and Notable" pick, praised by The Washington Post "because the world needs authenticity in its stories," and chosen as one of the Best Books of The Year by NPR is on sale wherever fine books are sold! 
It's also available in Italian and Spanish language editions, darlings! Because we're fabulous on an INTERNATIONAL level.
[Photo Credit: MTV via Tom and Lorenzo]
blog comments powered by

Disqus