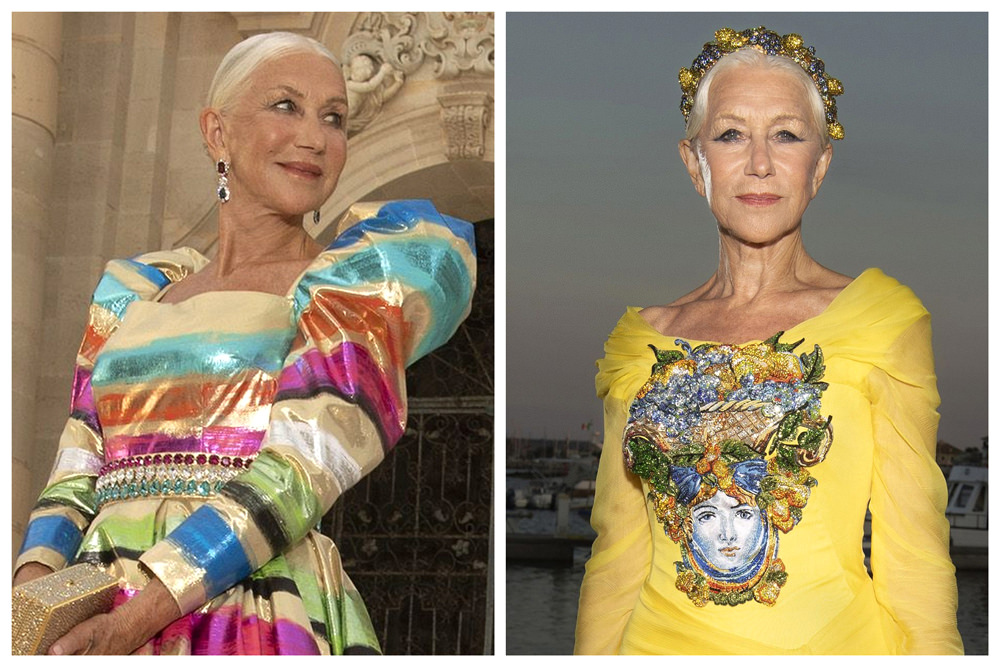 While we remain a bit torn about covering the stars at the D&G Alta Moda show, we are ever so grateful that universally beloved figures like Lupita Nyong'o and Helen Mirren are giving us cause to do so.
Pure stunning. It may be one of the best looks she's worn in a decade. It's definitely the best D&G she's ever worn. She's been a fan of the brand for a long time, but we never felt their Sicilian widow aesthetic suited her particularly well. When it comes to Dame Helen, it's always best to go as regal as humanly possible. It's why she's played so many royal figures in her career and it's why we dubbed her Queen Helen of the sovereign nation of Fuckinfantastica. We love the painted effect, but we think the bejeweled waistline is a little tacky and takes away from the rest of the gown.
We don't actually like this one at all, but her aforementioned regal quality is doing a lot to almost make us believers here. It's never a bad idea to dress Queen Helen up like a Roman empress, after all. We don't like this color for her and we really don't like the idea of walking around with a big face on your dress, but the headpiece looks gorgeous on her.
View this post on Instagram
Style Credits:
Dolce & Gabbana Dresses
Styled by Lee Harris
[Photo Credit: Courtesy of Dolce & Gabbana]
blog comments powered by

Disqus