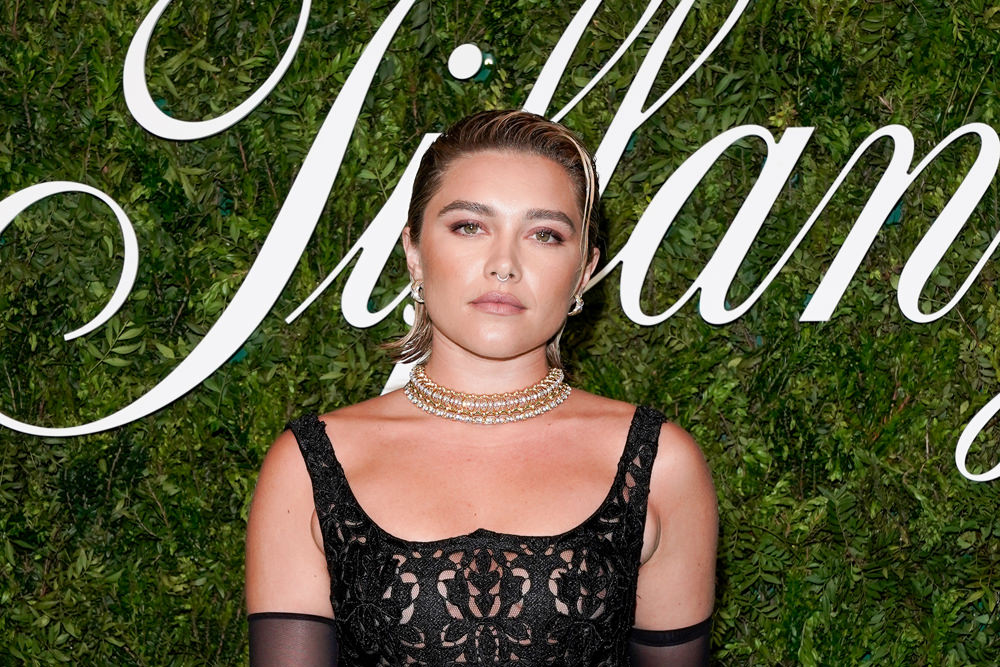 Pin
Bless her heart, she's done it again. And by that we mean that Don't Worry Darling star Florence Pugh has opted to continue her long-running streak of picking some of the tackiest high-fashion you ever saw in your life. Perhaps you should take a moment to prepare yourself before you scroll down.
Pin
Pin
Pin
Pin
Pin
Pin
Pin
Pin
Pin
Pin
We did warn you.
We were going to put this up to a vote while we go off and record today's podcast, but we realized that would probably be a little mean. Suffice it to say, we like nothing about this; not the black lace, not the weird bustline, not the sheer gloves — not even the jewelry, which should be a no-brainer when Tiffany starts throwing diamonds at you. We're not sure what exactly would be the right kind of jewelry for this look, but we're thinking that heavy gold necklace ain't it. Also, she loves the wet-hair look and we're going to be the bitches to openly question why that is.
Having said all that, we actually love that she's got tacky taste. So much red carpet fashion is so carefully curated and styled or so beholden to endorsement contracts that it's actually refreshing to see someone just go for it.
Style Credits:
– Emilia Wickstead Black Ensemble from the Fall 2022 Collection
– Tiffany & Co. Schlumberger® Hands necklace in 18k gold and platinum with diamonds
– Tiffany & Co. Schlumberger® Hands bracelet in 18k gold and platinum with diamonds
– Tiffany & Co. Schlumberger® rope six-row ear clips in 18k gold with diamonds
– Tiffany T T1 wide ring in 18k gold
– Tiffany Knot double row ring in yellow gold
– Tiffany Knot ring in yellow gold with diamonds
– Ilio Smeraldo Shoes
Styled by Rebecca Corbin-Murray | Hair by Peter Lux | Makeup by Alex Babsky
[Photo Credit: Courtesy of Tiffany & Co., tiffany.com, Barney Curran/Courtesy of Emilia Wickstead]
blog comments powered by

Disqus