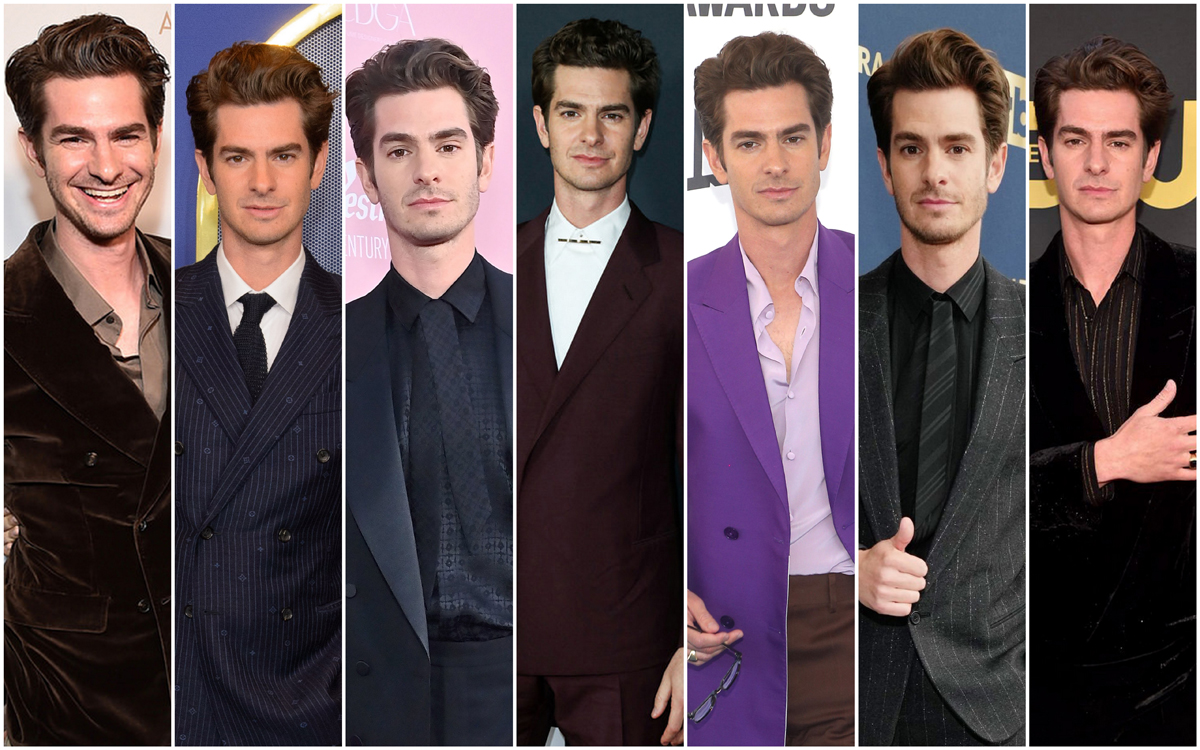 Continuing our "ology" tradition, we're counting down to the Oscars by doing deep dives on several of the acting nominees, looking at their red carpet style over the season, and trying to predict what we can expect from them on the red carpet on Sunday night. We rarely spend time on male nominees for this sort of thing, but we're in an age of High Peacocking on the red carpet, which means the dudes are putting in the work and taking the risks at a level they rarely ever have in the past. What makes tick…tick…BOOM! star and Best Actor nominee Andrew Garfield's style so interesting is that it's sexy, suave, and stands out while he mostly stays within a range of very fine traditional suiting. It's not that he's afraid of wearing a pink suit now and then, but what sticks out when we go through these looks is how simple, restrained, and chic they all are, each with some little twist or element to make them interesting. As always, you can click on the caption for each picture to see our original assessments.
In Dunhill at the tick… tick…BOOM! premiere at AFI Fest
At the SAG Awards in Saint Laurent
At the Film Independent Spirit Awards in Valentino
At the Costume Designers Guild Awards in Saint Laurent
At the Critics Choice Awards in Saint Laurent
At the Oscar Nominees Luncheon in Louis Vuitton
At the Producers Guild of America Awards in Brioni 

No skinny suits for this guy. He likes a broad shoulder, a full lapel, and a generous cut in his pants; very '40s/'70s in tone. For awards red carpets, he favors muted colors and rich textiles. And he clearly has an eye for some of the finest names in men's suiting. He's dabbled in Brioni and Louis Vuitton, but we'd bet he'll show up in Saint Laurent on the big night. We also tend to think it's likelier than not that he will be in a conventional tuxedo with only minor variations on the classic style. He'll also have fantastic hair, but that's a given.
[Photo Credit: Collin Xavier/ABACA/INSTARimages.com, Kevin Mazur/Getty Images for WarnerMedia, Faye's Vision/Cover Images/Instarimages.com, Getty Images for CDGA, Alberto E. Rodriguez/Getty Images for Critics Choice Association, Phil McCarten/A.M.P.A.S., Michael Yada/A.M.P.A.S., Courtesy of the Producers Guild of America, Michael Yada/©A.M.P.A.S., Phil McCarten/©A.M.P.A.S.]
blog comments powered by

Disqus