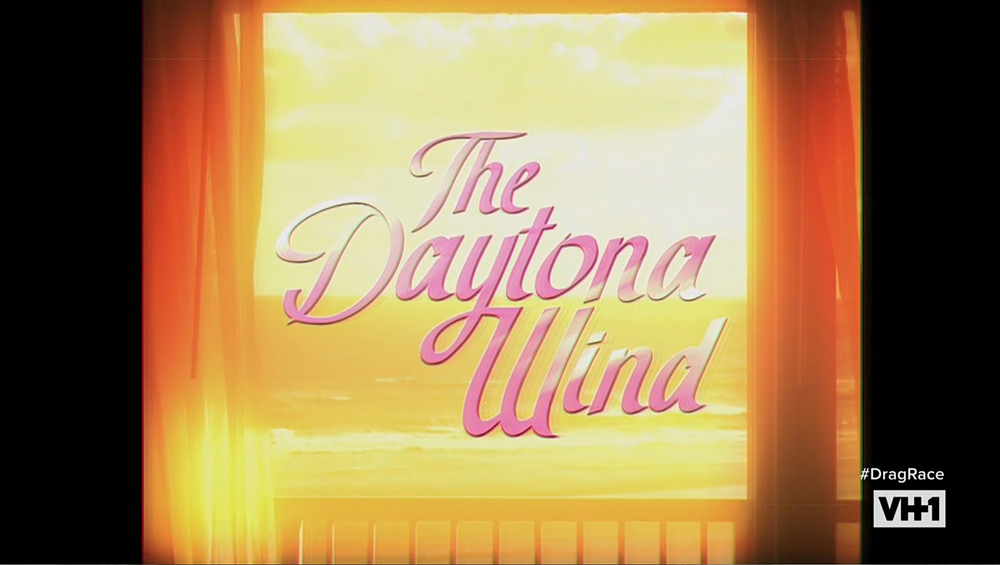 After staring at the screen for a good half-hour in a Saturday morning haze trying to come up with a snappy opening here, we've opted to just cut the shit and go for a straightforward thesis statement. This was the best Drag Race episode in quite a long time and definitely one of the best acting challenges in Drag Race herstory. We'll get to the whys in a second, but it comes down to the simplest of ideas; one that the show's producers have always understood, even if they don't always put it in practice. But first, minor melodrama.
Very minor, in fact. Essentially, Daya Betty just can't let go of the idea that she was done wrong by the judges and deserves more recognition. It's an old story and she was kind of silly to take it out on the wholly unobjectionable Jorgeous (who gives increasingly good confessional time), but it's to her credit that she eventually got on with the work, thanks partially to Jorgeous letting it all roll off her back.
We greeted the news of an acting challenge somewhat stone-faced, because so many of them wind up being painful to sit through and this crop has not so far shown itself to be full of star performers. But the queens all seemed eager to dive in and it's notable how drama-free the casting process was when you compare it to the most recent Drag Race UK.
Lady Camden was the only queen assigned a role she didn't ask for and we think this is the moment when the reality TV goddesses decided to bless the Drag Race producers. Unless there happened to be some form of shenanigans we can't see, the classic "I hate the part I got/sudden star turn" storyline evolved naturally in this case, as did Daya's "I'm bitter, but I'm going to channel that into my best turn yet" storyline. These are the kinds of editable little narratives that reality competition producers live for and often strive for, but when a show is able to set things up so those storylines develop without a lot of manipulation … well. That's why Drag Race tends to win Emmys. Still, those aren't the only reasons – or even the primary ones – explaining why this episode was so entertaining.
It makes an enormous difference to the queens' performances and to the entertainment value of the episode on a whole when the show takes the time and puts in the effort to give them something to work with. A soap opera challenge is so perfectly calibrated for drag queen acting (specifically the campy, over the top, Divine-esque style this show has always required) that we kind of wonder why they just don't make it one of the mainstays of a season, like the Snatch Game or the Library challenge. Soap operas are universal, so while Ru kept making references that were at least thirty years old, someone like Jorgeous was able to look at the script, realize it was just a version of her mother's telenovelas, and without much in the way of skill or training, just dive right in and nail it.
It also makes a huge difference when the show provides them with a fully realized set instead of a green screen and a pile of props to pick through. Even an actor with years of training would find a green screen far more difficult for their work than a detailed set. Granted, it's not in Drag Race's interests to make any of the challenges easy for the queens, but it's still a TV show and being fun to watch is always going to be its primary goal.
And we think it makes a difference when Ru is there on set with them and they also get to bounce off a guest star who can work with the material and challenge the queens to meet her level. All of these things were in place to produce a fun, funny challenge in which every single queen, amazingly enough, managed to shine in some way, on some level.
But we have to give special kudos to the show for providing the queens with a relatively funny script that they then made exponentially funnier by slipping in a bunch of fart sounds without telling the performers. Everything about this challenge worked and we were delighted all the way through. As we said, there were no disasters. In fact, there were no bad performances at all, which is something that happens on Drag Race about once per presidential administration.  Lady Camden shined the brightest. Michelle was right to point out that she was working at a skill level we rarely see on Drag Race, not just delivering her lines flawlessly, but letting a whole storm of emotions ripple across her face even when someone else was speaking. Daya's turn was genuinely funny; not just because of her line readings and ridiculous makeup job, but the voice she adopted. So often, when the queens do a voice, they get slapped down for it (like Michelle's complaint that Willow – also hilarious – was basically doing Moira Rose), but she really nailed it.
Continuing the episode's winning streak, the runway category was "Chaps" and not one of these looks was disappointing. It's like the entire season stepped its pussy up with this episode. The safe girls first: Deja's look was the best thing she's worn all season, but we wish she'd change up her makeup more. At first, we thought Kerri's look was a little too "pretty lady" to be interesting, but the amazing amount of work she did on that wig deserves some recognition. Angeria's take was probably the least interesting of the lot, but it's still pretty gorgeous.
At first we thought Jorgeous's lace tights really didn't work, but the more she walked that stage, the more it looked like a viable costume for any of a number of pop stars. It might seem strange to say this, but it felt very of-the-moment. Jasmine's graduation chaps were weird, funny and unexpected. She came out shining in the acting challenge by pulling an Alyssa Edwards: being so ridiculously bad that it winds up being way more entertaining. Her coming out in Untucked was really beautifully handled; not just by her and the show, but the other queens as well. It was especially poignant seeing Kerri perfectly still, eyes closed, tears streaming, listening to another woman speak her truth. Again: Emmy material. Lady Camden followed up her hilarious performance with one of the best-executed runway reveals we've seen in years.
We really hope Daya learned the lesson that when she gets far away from Crystal Methyd, she stands out way more and the judges respond better to it. Our only critique is that the chaps look more like sagging pants that are falling off her than something designed to look that way. Willow is simply in a class of her own. This costume is glorious. We hope she takes Michelle's advice to do Moira for the Snatch Game. Bosco continues to surprise us with her range. We love this costume, but we wish she'd switch up the makeup a little more and not serve the burlesque face with every look.
We suppose some viewers might smell shenanigans or tomfoolery in Ru's decision not to put anyone in the bottom, but honestly, if any of these girls went home after such a great episode, we would have been upset. Daya and Camden got their shot at a win and both ladies tore that stage the fuck up.
It was close, but like pretty much every other decision the show made this episode, we agreed with the win. Lady Camden found a little bit of humor in the song, which made her lip sync more fun to watch. That, a killer reveal and a truly professional level of acting all made her extremely deserving this time around. We can't imagine this episode isn't an Emmy submission. The old girl's still got it.
Legendary Children: The First Decade of RuPaul's Drag Race and the Last Century of Queer Life, a New York Times "New and Notable" pick, praised by The Washington Post "because the world needs authenticity in its stories," and chosen as one of the Best Books of 2020 by NPR is on sale wherever fine books are sold!
[Photo Credit: VH1 via Tom and Lorenzo]
blog comments powered by

Disqus