When Elle Woods (Reese Witherspoon) sashayed into that courtroom wearing head-to-toe pink in 2001's Legally Blonde, she was upholding a cinematic costume design tradition that stretched back a half-century, situating that color on a point where femininity and power intersect.
We weren't planning on getting to this one yet, but after we took a look at Sissy Spacek's iconic pink prom gown from Carrie last week, we realized we had an opportunity to do a sort of Pink Dress Trifecta, going from Marilyn Monroe's "Diamonds Are a Girl's Best Friend" gown in Gentlemen Prefer Blondes to Spacek's bloody prom gown to Witherspoon's legendary turn as the bubbly Harvard Law student in Legally Blonde, a film which not only spawned several sequels (only one of which starred Reese), but also a Broadway musical and even a reality competition (to cast said musical).
We try not to get too caught up in color theory when we do these analyses, because we think cultural associations and implications regarding color can be era-specific, culture-specific, and in many cases, gender or race-specific. There's always the danger of having your nose lead you down a certain avenue of interpretation only to find out you were seeing things through your male eyes or from your white perspective without considering the broader implications – or the idea that there may be no implications at all for many people. Green doesn't always signal envy (or money, for that matter), red doesn't always signal passion (or rage, for that matter), and blue doesn't always signal serenity (or motherhood, for that matter) – although they can and have been used to make those connections in art and literature many times.
But pink? In mainstream Hollywood movies? Look, we won't say it absolutely always refers to femininity or female sexuality – especially since you can find examples of male actors wearing it (although you'd also find that a number of those examples will imply homosexuality on the part of the wearer). But there is definitely a long history of putting (usually blonde) actresses in pink costumes in order to make some sort of statement about womanhood, sexual power, or frivolousness (which is often seen as a feminine or gay male attribute). When you combine all three, you land on the Mean Girl trope, from the Pink Ladies in Grease to the literal Mean Girls of the 2004 Lindsay Lohan film ("On Wednesdays, we wear pink.") Traditional femininity as a weapon.
Lorelei Lee's pink gown was a perfect accompaniment to the message of the song she was singing, which showed her to be savvy about her appeal to men and how limited her options were if she wasn't smart about leveraging that appeal. Carrie White wore her pink dirty-pillow-baring prom gown to show the world that she was becoming a confident, sexually awakening woman (only to meet with social backlash so punishing it unleashed her power to devastating effect). Elle Woods is neither as limited in her options as Lorelei nor as likely to lash out as Carrie, but in this moment in the film, she was making largely the same points with her pink dress, shoes and bag. A point so simple and easy to understand that it's almost hard to believe no one actually voices it in the dialogue. But first, let's note what we're looking at here.
A pink dress with a pink satin sash, cuffs and lapels, pink sandals with sparkle details, a pink bag, pink lips and pink nails. The point to the look is entirely bound up in its pinkness and the sense of shallow frivolousness implied by it. Note how big and bouncy her hair is, as well as the not-entirely-professional cleavage. Note also how there are very subtle callbacks to traditional male suiting with the shape of the cuffs and lapels as well as the inclusion of (sparkly, of course) cuff links.
Note how everyone else is not only in dark colors, the majority of the people in the courtroom are in black. This is not a sober or subdued pink, and the sparkly details ramp up the perception that Elle is merely a Barbie playing at a legal career. The visual message is extremely clear: Elle is not considered legitimate by almost everyone in that room and stands out vividly as someone who is both rejected by the establishment and someone who is in the process of actively rejecting what the establishment expects of her and imposes on her.
Elle was introduced to the audience as a frivolous (although clearly intelligent and ambitious in her own way) sorority girl living a full-on Barbie Girl lifestyle awash in Barbie-pink clothes and furnishings, complete with the kind of cliched signifiers (heart-shaped notebook, pen with a pink puffball) that imply a shallow mind. When she comes up against the snobbery of her Harvard Law classmates and the expectations of her professors, she adopts a slightly more serious style in which pink is almost entirely banished from her wardrobe for a good 40 minutes of the film as she tries to fit in and meet the expectations of the people around her only to constantly get waved off, disappointed or dismissed.
When she walked into that courtroom to take over the case from the law professor who sexually harassed her, on behalf of the sorority sister no one but she could understand, she was returning to the color and style that spoke most clearly to who she is. This entire outfit is a statement on her part about confidence, self-knowledge, and the refusal to have other people dim her light.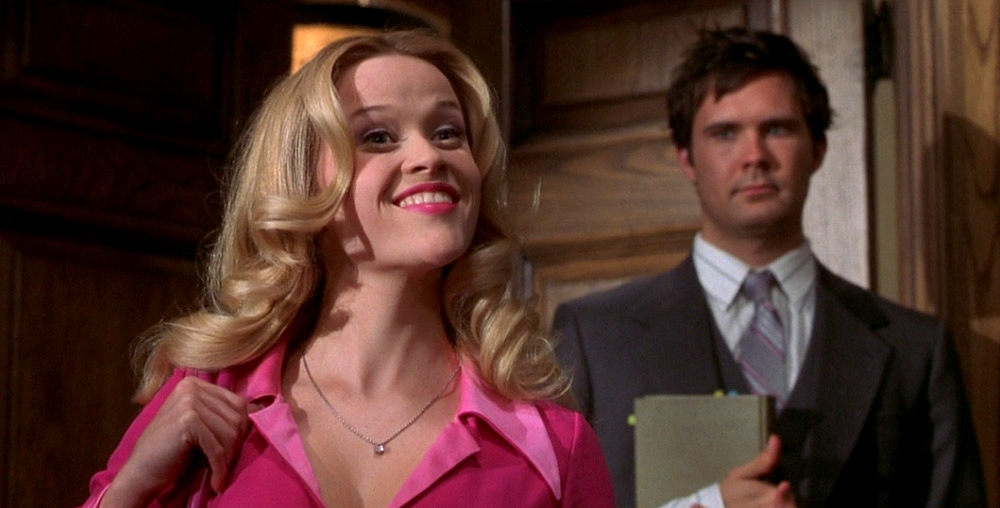 As the film's costume designer Sophie de Rakoff put it: "She needed to be her most true self at this moment." This is why we argue that Elle's pink dress is one in a line of pink costumes for female characters that deliberately upends the social expectations and implications of a woman in pink. Like Lorelei Lee or Carrie White, like Regina George and Rizzo of the Pink Ladies, this is a young woman using pink to indulge in those stereotypes just so she can turn them around and use them against her detractors for underestimating her.
Like the pink ribbons in support of breast cancer research or the pink pussy hats of the Women's March, it's about turning something considered too "girly" to take seriously into a statement of female power and confidence; an affirmation that traditional femininity does not have to stand in the way of ambition or principles. No wonder Elle Woods became such a generational heroine.
[Stills: Metro-Goldwyn-Mayer via Tom and Lorenzo]
blog comments powered by

Disqus