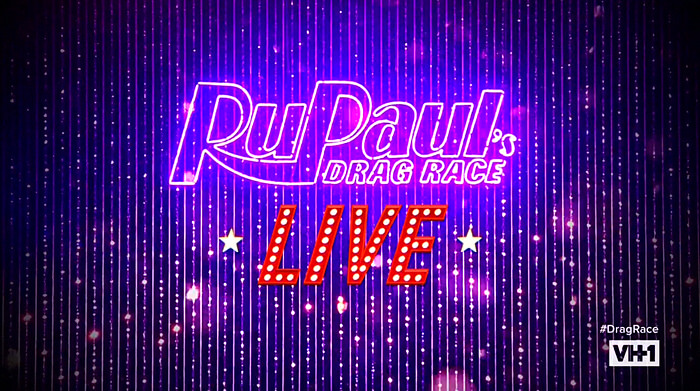 The irony of a good Drag Race semi-finals episode is that it tends to serve up the most entertaining challenge of the season while reducing the judging criteria to arbitrary nitpicking, with the result being an elimination that's equal parts heartbreaking and infuriating. Highs and lows.
We've found a lot of the asides from the judges or the Werk Room walkthroughs with Ru to be a bit stiff and corny this season. The scripted jokes and puns are getting hammier and less funny, even as the knee-slapping responses to them get more and more over the top. To be honest, we can't say with any true confidence whether this aspect of the show has gotten worse or we're just cranky and let it get on our nerves this season. But this episode helped us articulate the reason why it's been irritating us more this season than others. It's because every time the show pulls the focus away from the queens, we found ourselves getting antsy and impatient.
They really are an uncommonly polished, talented, and gorgeous gaggle of queens and we don't think it's mere hyperbole when Ru suggests these five may be the finest semi-finalists in Drag Race history. The above results aside.
As an aside, are we also imagining things when we suggest the Pit Crew was weirdly under-utilized this season? It's a good thing these queens are so damn talented and fun to watch because other parts of the production have been coming off a bit half-assed to us. In a less entertaining season, we think there would have been much more outcry regarding that weird product-placement version of the Library Challenge, for instance. Anyway, this week's whole deal was turned over to promoting the Drag Race Live show in Las Vegas, which probably really would have been reeling in the crowds if the world hadn't shut down two months ago.
Anyway, the results of the mini-challenge were a bit awkward (again, we're wondering if Ru needs to freshen her approach) and we felt like Gigi won simply by having a costume that stood out from the others – not to mention the body of a born showgirl.
We'll say this about Ru: her drag remains world-class. She's been looking gorgeous all season. As for the challenge, we initially dismissed it as a P.R. exercise for the latest money-maker in the Drag Race franchise, but we've gotta say, if this is what the Drag Race Live show is all about…
Color us impressed as hell. The mirror number was poignant, well written and beautifully performed by the girls. The costumes for the final number were a bit questionable, with the exception of Jaida's stunning bodysuit and thigh-highs. The performances were so great across the board that we knew the final question was going to come down to the final looks.
Category is: Eleganza Extravaganza! 👑

Whose lewk was your favorite of the night? #DragRace 💘 pic.twitter.com/VuGzYcMid2

— RuPaul's Drag Race (@RuPaulsDragRace) May 16, 2020
The ladies did not disappoint.
Something else clicked into place this episode when Ru was gushing over Crystal, which we felt was a genuine and heartfelt expression on Ru's part. We've said before that there's a long history of clown drag, which Crystal is beautifully carrying forward, but when Ru went gaga over this look (and with good reason), we realized just how much Crystal reminds us of the '80s East Village alterna-queer art scene figure Tom Rubnitz, who was a friend of Ru's at the time. She appeared in his legendary underground short Pickle Surprise with a very young Lady Bunny in 1989 and the entire look and energy of that video is re-embodied in Crystal. We wonder if Ru sees the throughline herself.
Having said that, while we love the concept and the energy of Crystal's piece, we think we might've suggested an edit of the volume or a rethinking of the asymmetry of the arms. But the execution is gorgeous, the face looks amazing, and the look is fun and full of energy. Even so, Crystal may have been outshined in the fun department by Gigi, whose look is certainly that, as well as witty, character based, and original as hell.
That's the thing about Miss Goode. She's not just a pretty lewks queen. She's funny, original and entertaining to boot.
We'll say it: We knew Jackie would be in the bottom when she walked out in this look. It's cute. It's fun. But it's in now way jaw-dropping or sickening or fierce or original, which is what all the other girls on that stage were serving.
And we have to say, we don't think the jewelry was well-chosen at all. You're serving up primary colors from hair to shoe. Why go for diamonds when this look clearly calls for costume jewelry? She'd have been a bit more eye-popping if the jewelry and eye makeup coordinated with the hair and dress. Yes, this is nitpicky, but it's that time of the season. And as the girls all said, it's report card time. She needed to slay all day from the second she stepped out, and while her performance was great, her look was a sad trombone.
We believe one of us may have shouted "JESUS CHRIST JAIDA" when she stepped out. Not that we're naming her our Messiah; just that we were utterly floored by how stunning she looked.
She was easily the most beautiful and glamorous girl on the runway – by far. The only reason she didn't take the win is because she didn't serve the judges anything they didn't already see from her. And speaking of drag you've already seen, here comes Miss Sherry Pie, queen of controversy.
As two people who wrote about all the references Drag Race pulls from, we're never going to be mad when a queen does a fantastic job of  tipping her hat to drag history. It's not that this is a freshened-up take on Mae West drag, it's just a very, very good version of it, with more than a slight borrow from Dolly Parton. There's a rather persistent take in the show's fandom that mistakenly, and in our view, naively equates morality with talent — and we're here to tell you kids, all of history proves otherwise. Some of the worst people in history produced some of its greatest art. That Sherry Pie admitted to doing a terrible thing does not really have anything to do with whether Sherry Pie is a good drag queen. And we've been banging this drum all season, to the consternation of some, but it remains true: Sherry Pie is a very good drag queen. You may not like her costumes or her style of makeup or her love of old-school camp or her tendency to age herself up a good 25 years in her drag, but she commands the stage when she performs, she never flubs lines or lyrics or steps, and her looks every single week have been highly polished head-turning affairs, often with truly original twists to them. There was no question that – the mess of her personal history and actions aside – she earned her spot in the finals, from the perspective of the people who were judging her competition results solely.
This really should go without saying, but we'll say it anyway: All of the above is not an endorsement, excuse or explanation for her actions and we absolutely agree with the producers that she should not proceed to the finals.
As for the final lip sync, we're of two minds.
Lorenzo thought it was fantastic, but Tom thought each of them were struggling with how to interpret the song and they both fell back on old bits.
Literally the only thing we can criticize Jackie for is the not-fantasticness of her final look. Taking that and considering her "report card," we can agree with Ru's choice here, even as we note how much it sucks that such a fabulous queen didn't make it all the way. It would be justice to bring her back to take Sherry's place in the finale and we hope Ru and the producers understand that. To borrow Ru's own phrase, World of Wonder, don't fuck this up. #JusticeForJackie
"Our book Legendary Children: The First Decade of RuPaul's Drag Race and the Last Century of Queer Life is on sale now!
The Los Angeles Times called it "a nuanced exploration of the gender-bending figures, insider lingo and significant milestones in queer history to which the show owes its existence."  The Washington Post said it "arrives at just the right time … because the world needs authenticity in its stories. Fitzgerald and Marquez deliver that, giving readers an insight into the important but overlooked people who made our current moment possible."  Paper Magazine said to "think of it as the queer education you didn't get in public school" and The Associated Press said it was "delightful and important" and "a history well told, one that is approachable and enjoyable for all."

[Stills: VH1 via Tom and Lorenzo]