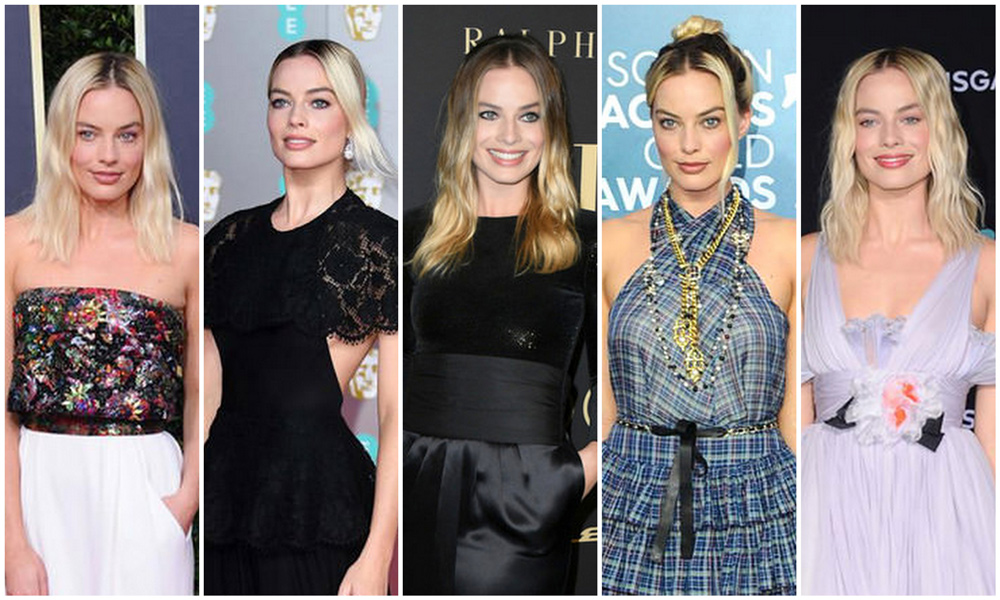 Miss Margot is in the midst of a career whirlwind, with the success of Once Upon a Time in Hollywood, the nomination for Bombshell, and the release of her comic book flick Birds of Prey. That sense of split focus may just be why she has the fewest entries on this list. She's been everywhere in the past year, but we weren't really keen on including her promo work for OUATIH and BoP here; partially because it really doesn't feel like part of her Oscar poledance and partially because the vast difference between projects means you can't really get a sense of her style. You don't dress for your superhero film the same way you do for your Oscar bait politically relevant film.
Margot Robbie in Ralph Lauren at ELLE's Women in Hollywood Awards

Perhaps this whirlwind of activity is why her red carpetry has seemed so restrained of late. She's had to do so much promo work this year that she's either worn out or she's recognizing that she's about to be and keeping things safe so as to avoid disasters.
Margot Robbie in Giambattista Valli Couture at the "Bombshell" Los Angeles Premiere

This is probably the most interesting look she's worn all year and it's fairly conventional in a lot of ways. She's definitely not pushing envelopes.
Margot Robbie in Chanel Couture at the Golden Globes

But there are times when it feels like she doesn't even want to be in the spotlight. We don't know what it is, but some of these looks feel so hesitant for someone who's having such a year.
Margot Robbie in Chanel at the SAG Awards

This was her other notable attempt at wearing something interesting, but it's weirdly off-brand for Chanel and it feels like the house's attempt to do something with the current prairie dress and ruffles trends. Still, it stands out well in a sea of mediocre choices. We'd rather see her wear something like this on Oscar night. It's goofy, but at least it's  not boring or too demure.
Margot Robbie in Chanel Couture at the BAFTA Awards

Like so. We're really hoping she recognizes the unlikelihood of snagging the big trophy and instead of receding into the background, takes this moment of high critical and professional esteem, and shows up looking absolutely sickening. We're rooting for you, girl. Show up like the champion you are. Take it somewhere badass. Don't do the prairie widow thing.
Styled by Kate Young
[Photo Credit: INSTARImages]