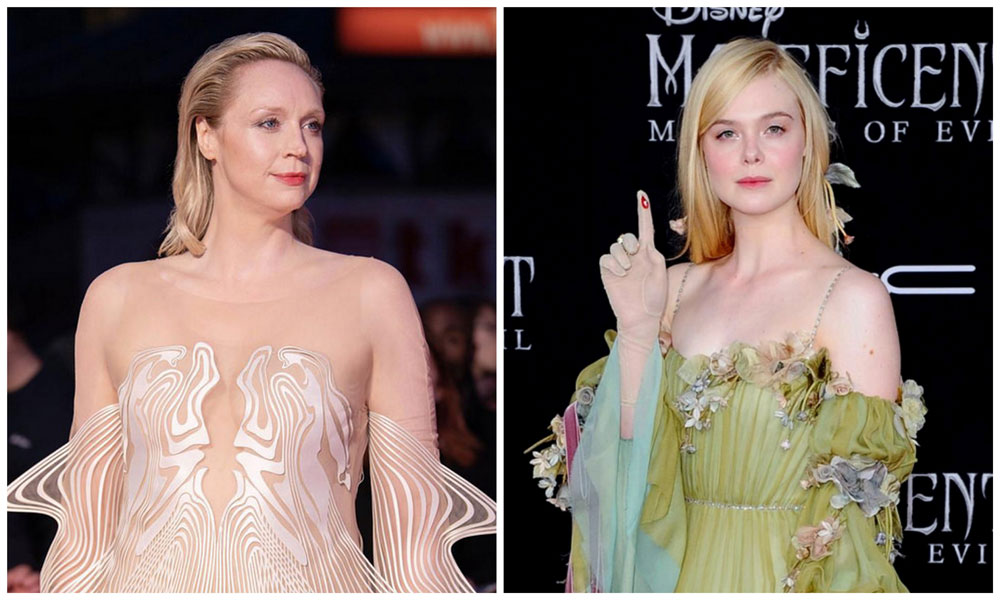 This week, your choices are all about bringing the DRAMA to the red carpet, whether that means a dramatically head-turning look or literally playing out a story in your fashion. Let's scroll down and see what's what, yes?
Yes!
T's Pick: Gwendoline Christie in Iris van Herpen Couture at "The Personal History of David Copperfield" Premiere
T's Defense:  This look, like so much of Gwendoline's promo style, is all about turning heads and hitting that RC with the impact of a meteor strike. What makes her public style so appealing isn't just how bold and unique it is, but how much it's about her claiming her space as a woman much taller than the norm. She refuses to be demure in her approach or apologetic about her size. She leans in, fabulously. The details may not look so great up close, but she's not there to take closeups. She wants you to take ALL of her in at once. 
Lo's Pick: Elle Fanning in Gucci at the "Maleficent: Mistress of Evil" World Premiere
Lo's Defense: The blood drops may be too literal and on-point, but I really appreciate how she's using her fashion to tell a story and build a character. While it's true that there's no reason not to see this as an extension of her onscreen costume wardrobe, but I love how it feels high-fashion at the same time it feels classically fairy tale. She doesn't fight her look, she chooses the exact fashion to heighten. 
Two drama queens! Two ladies leaning hard into their looks! Which one's it gonna be, hotshot?
Who won the red carpet showdown for the week of September 29th, 2019?

Style Credits:
Gwendoline Christie: Iris van Herpen 'Suminagashi' Ink Dress from the Fall 2019 Couture Collection | Christian Louboutin Shoes
Helen Mirren: Gucci Gown with Floral Appliqués and Gloves
Styled by Samantha McMillen | Hair by Jenda | Makeup by Erin Ayanian Monroe
[Photo Credit: INSTARImages]
blog comments powered by

Disqus