We were going to subject this one to an "IN or OUT?" vote but we're pretty sure which way things would swing and we think we love it too much to subject it to such hatefulness.
Okay, not really, but we do think this is a fun sort of look that might seem a bit silly to some folks: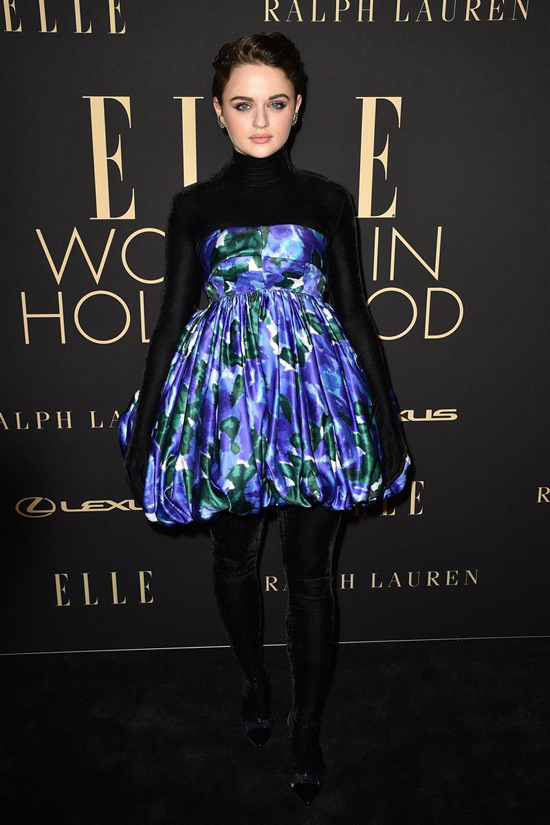 And those folks would be right. Counterpoint: She's 20, she's having a banner career year, and she's got the kind of Fashion Pixie looks that practically beg for this sort of edgy whimsy. No offense to her, but sometimes we think the Lucy Boynton broken-down-doll style route is one too many quirky, weird fashionista girls talk themselves into. Be weird in different ways, we say. Make people wonder just what the hell you're about instead of slotting yourself into a style genre that's all too well-defined by this point.
We love this look. It's weird and off-kilter and perfectly suited to her.
Style Credits:
– Richard Quinn Ensemble from the Fall 2019 Collection
– Brumani Earrings
– Christian Louboutin Shoes
Styled by Jared Eng Studios | Hair by Dimitri Giannetos | Makeup by Allan Avendaño
[Photo Credit: ABACA/INSTARimages.com, Giovanni Giannoni/WWD]