Stay tuned for the makeout session at the end of this post.
So do we think this was an extremely well-coordinated outing from a style perspective? Or the opposite? Because we tend to think it's a mistake to have near identical suiting on two of your actors at the same event. Obviously it's not a disaster or anything. If anything, it's a handy illustration of how the same garment can be interpreted in different ways.

Jon Bernthal


Low-contrast suit-and-tie looks have never really been our thing, although there's a persistent trend for them, so we've made peace with them. Somewhat. If we recommended a white shirt for this suit, it would instantly go businesswear, so all the dark tone-on-tone makes sense. It's not our favorite kind of menswear look for the red carpet, but we can't honestly say he looks bad in it. Although he could definitely do better than those shoes.

Ben Barnes in Ted Baker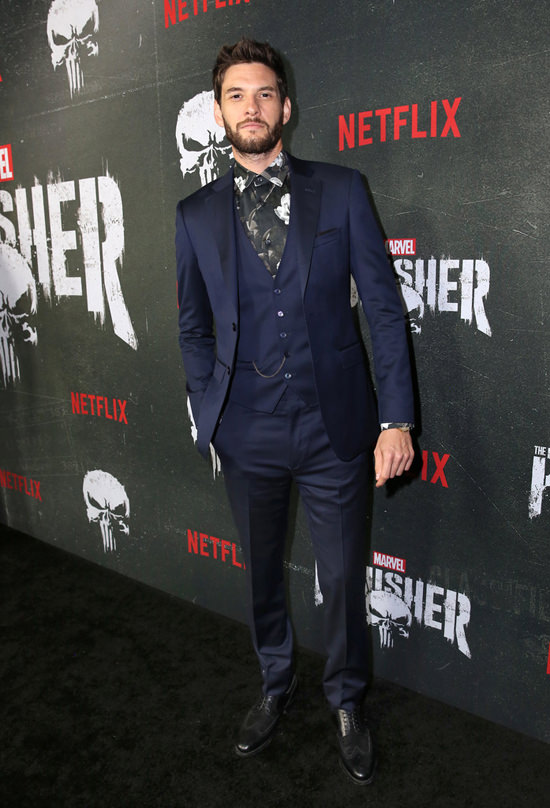 We love this in theory, but the more we look at it, the less it works. Yes, by all means, pair a floral print shirt with a 3-piece suit. It's a fun, modern juxtaposition and Ben's exactly the right kind of guy for it. Our problem? The shirt and suit don't really go together. Had he worn this shirt with a gray, black or even green suit, it would look great. But if you're going to do this kind of look with a navy blue suit, you need to pick a print that coordinates with that color. This ain't it, chief.
Now about that makeout session. The thing is…
We lied.
[Photo Credit: INSTARImages]
blog comments powered by

Disqus