Ben Affleck and Henry Cavill attend the premiere of "Batman V Superman: Dawn of Justice" at the Radio City Music Hall in New York City.
The marriage festivities continue…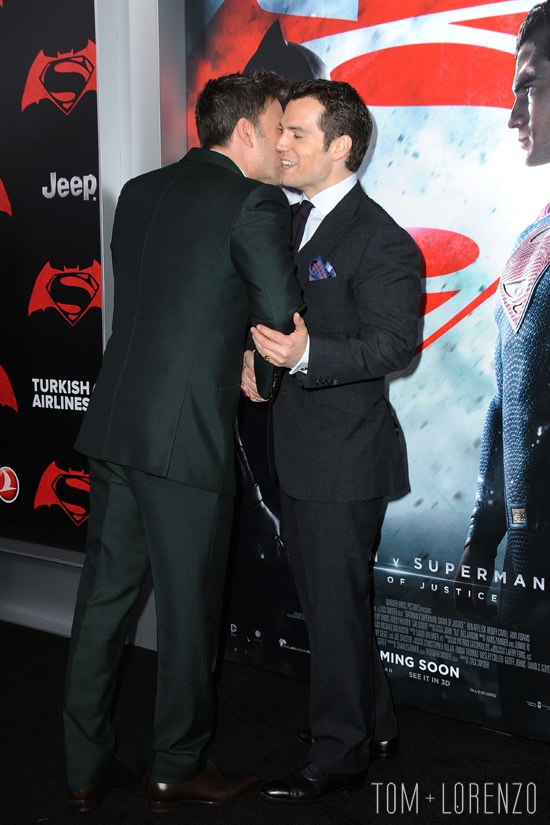 We'll call them "Benry."
Look, it was cute when they dressed alike the first time, but now we're kinda wondering why they're bothering. It really is impossible to see two men in 2016 in matching suits, hugging and posing for pictures, without immediately thinking it looks like a wedding. On the one hand, that's great for social progress. On the other hand, it makes things a little tougher for bros who just want to look good and hug and kiss their fellow bros while doing so.
No, really: what's the point in dressing them identically? We don't get it. The off-white suits were notable because of the unusual color, but now that they've switched to matching black 3-pieces, we're scratching our heads. By all means, show a united front, but you don't have to step out on a red carpet looking like you're at a twins convention.
Having said that, they both look really good. We just think if you're going to put that kind of thought into coordinating your stars, why not put Batman in a black suit with a gray tie and Superman in a blue suit with a red tie? Wouldn't that be a more effective use of color coordinating than simply matching your stars to each other?
Style Credits:
Gucci Three-Piece Suit (Ben Affleck)
Dunhill Bespoke Three-Piece Suit (Henry Cavill)
[Photo Credit: Callahan/ACE/INFphoto.com, Roger Wong/INFphoto.com, INFphoto.com, Getty Images]
blog comments powered by

Disqus