No. Absolutely not. We don't care if it is Chanel Couture and Anna Wintour personally signed off on it with ink made from Karl Lagerfeld's blood, this is not appropriate for the Met Gala:
Dakota Johnson attends the "China: Through The Looking Glass" Costume Institute Benefit Gala at the Metropolitan Museum of Art in New York City is wearing a Chanel couture mini dress from the Fall 2013 couture collection paired with Bally heels, Chanel Fine Jewelry earrings, and a Chanel 'Chinese Doll' bag from the Chanel Paris-Shanghai 2010 collection.
Granted, other ladies showed up mostly naked, but at least they had sort of pretend gowns going on. This is just a dress to go clubbing in. We had a hard time believing it was Chanel Couture until we saw how it started out:
Chanel Fall 2013 Couture Collection
We didn't love the original, but it was a hell of a lot more interesting than this.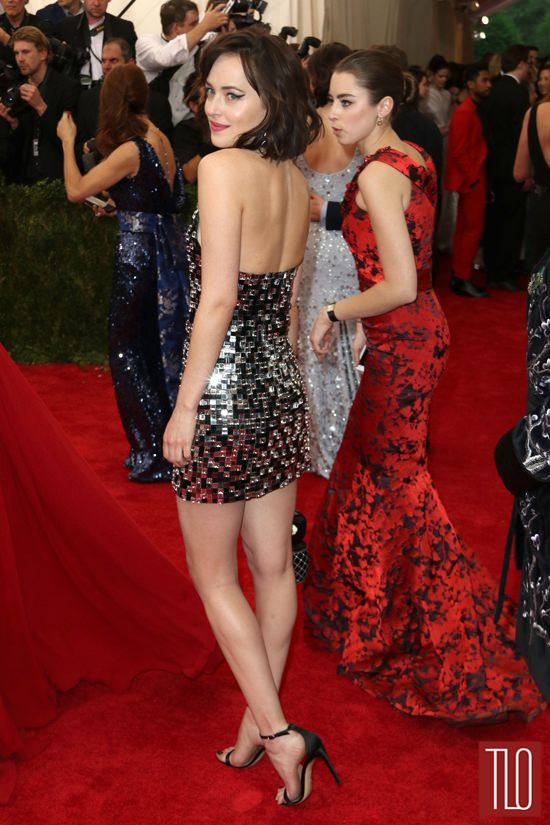 And that purse is just … come the fuck ON, fashion people. It's like you live to announce to the world constantly "I'M TOTALLY OUT OF FUCKING TOUCH! THE PRETTIEST PEOPLE ARE WHITE AND BEING FAT IS WORSE THAN CANCER!"
And girl, your eye makeup is fucked. Was that supposed to make you more Chinesey or something?
[Photo Credit: Jennifer Graylock/INFphoto.com, RAM/FAMEFLYNET PICTURES, Janet Mayer / PRPhotos.com, IMAXTree, Chanel]
blog comments powered by

Disqus