We feel like such bitches for saying this, but …
Rihanna attends the 2014 British Fashion Awards in London in a Stella McCartney tuxedo blazer paired with a Charlotte Olympia clutch, a Giuseppe Zanotti choker, Giuseppe Zanotti ankle strap sandals, Jessica McCormack earrings, and bracelets and rings by Stephen Webster, Sybarite, and Hannah Martin.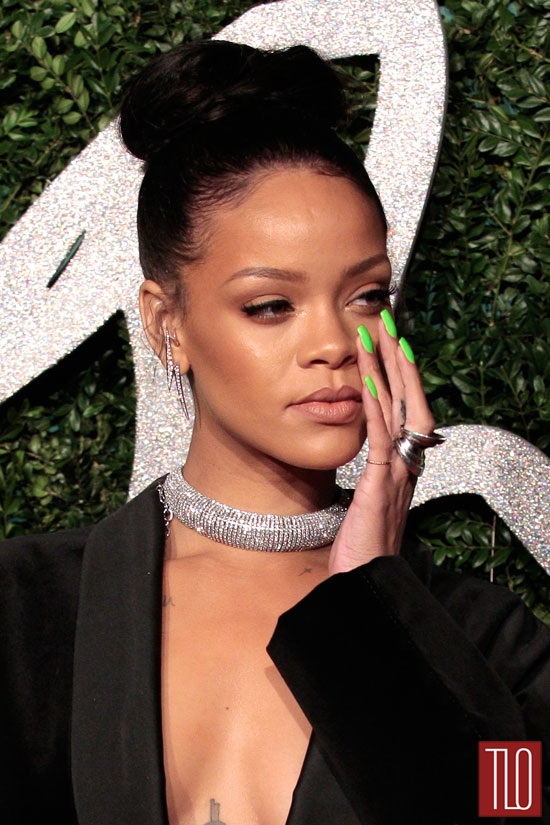 We're disappointed.
Don't get us wrong. She is, as the kids and the drag queens and the kids who are drag queens say, SLAYING, but the last time we saw her at a fashion award ceremony, she was sporting glittery nipples, spit curls, a do rag and a facial expression that informed us all that yes, she really was pulling it all off, bitches. In comparison, this just looks like something Ri wears to brunch.
And really, it's not even all that well done. That just looks like an over-sized mens jacket with the sleeves poorly pinned. And with the plunging bare neckline, the hosiery, the high hem, and the one button holding it all together, isn't it kind of impossible NOT to picture the high-waisted pantyhose line she's likely to be sporting? Doesn't that kind of ruin the effect?
[Photo Credit: INFphoto.com]
blog comments powered by

Disqus