You know what Rocker Pixie Jesus has in spades?
Jared Leto attends the Armani Privé Fall 2014 show in Paris, France.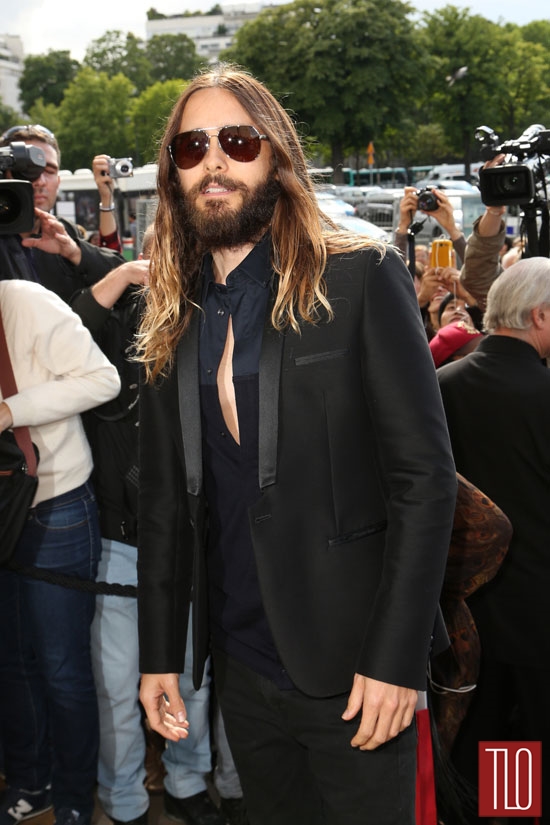 Panache.
Sure, it's an outmoded word, but we don't think it's an outmoded concept. Call if "flair," if you must. It's more than just style; it's the ability (or more accurately the attitude) that allows one to get away with outfits that would look ridiculously stupid on anyone else. This is how Brad Pitt wishes he looks. Unfortunately, when Brad tries to go this route, he tends to look like a homeless biker. Somehow, Jared can wear some shitty outfit and then finish it off with a high-end item (like the above tuxedo jacket) and have it all come together like it was meant to be.
Bitch.
Granted, this is not one of his better efforts. In fact, we don't much like it. The pants and the boots really bug. But the point is, if, say,  Robert Downey Jr. or Brad Pitt tried this, we'd be raging and yelling and claiming that civilization was about to collapse.
And believe us, he's not our type at all. This is not a "He's so hot he can get away with anything" situation. He's just got that special something; that undefinable thing that people in fashion absolutely lose their shit over.
But the thumbs-up thing will never be cool, no matter who does it.
[Photo Credit: PacificCoastNews, HP/FAMEFLYNET PICTURES]